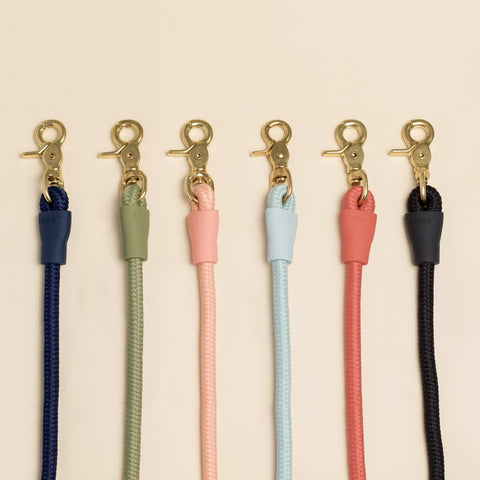 Infinity Leash
One leash to rule them all: Simple adjustments lead to endless possibilities, so you can go everywhere and do anything.

Long Leash
Short Leash
Double Leash
Collar / Leash Combo
Training Collar
Semi-slip Collar
Long Tether
Short Tether
Hands-free Cross-body
Hands-free Waist Leash
At 7ft long the leash is designed to be body inclusive for humans and dogs, the custom figure-8 brass slides can be moved along the whole length of the cord and the brass clasps can be attached to the rope or the figure-8 slider.
Click here to read our helpful FAQ to answer any questions you might have about whether the Infinity Leash is right for you and your pup. 
Shop Mauve, the pack-selected color exclusively at Target.com.
Dimensions
Materials
Care & Maintenance
Good to Know
*All shipping rates are calculated at checkout based on weight and shipping location.
US Orders
- Standard Shipping: 3 to 10 days with tracking = $10 or less.
- Expedited Shipping: 2 to 5 days with tracking = $18 or less.
- Free Standard Shipping: 3 to 10 days on orders over $75 (before taxes and after discounts).
- Expedited 2-5 day shipping available on orders over $75 at the customer's expense.
International Orders
We offer shipping to selected international countries (link here) outside the United States.
- Estimated shipping time: 8-14 business days.
- Customer notification of local duties and taxes to be paid before delivery.
- Customer responsibility for all duties, import taxes and brokerage fees.
- All orders placed before 5pm EST will be shipped within the next 24 hours from Monday to Thursday.
- For orders placed on Friday (before 12pm), Saturday and Sunday, they will be shipped on the following Monday.
Exchanges & Returns (US Orders)
- We do not offer free exchanges. To exchange for a different item, please create a return here & place a new order for the correct item. 
All returns are subject to a $2.50 restocking fee.
- If your return is older than 30 days, please contact hello@awoopets.com with your order number and details of the return for assistance.
Fantastic leash!
We've been using this leash for 6 months and have greatly enjoyed it overall!
Pros:
-I love that there are two figure-8 brass slides and that you can adjust their position along the leash and therefore adjust the leash length
-the navy color is very nice and has kept pretty clean
-the hardware, especially the clasps, feel very secure and I've never worried about it breaking
Cons:
-the leash cord itself is starting the fray a little bit from rubbing against the hardware
-the swivel on the clasp can be a little squeaky
Favorite leash!
I love this leash and how you can use it many different ways. I love the brass hardware, it looks so good. The material for the cord is the perfect thickness and has a little give which is nice.I had been eyeing the fable leash for a while but it wouldn't work for my puppy since he still chews on things sometimes. So glad I found the awoo infinity leash, 10/10
Love the leash, but the clasp is no good!
I was obsessed with this leash at first because it matched everything else we got for our dog and the features are amazing, but upon using it more, our dog got loose just by pulling on the leash the wrong way. The way it opens and closes is not secure, and now I am hesitant to use it unfortunately. I wish the clasp was different and/or lockable!!
Cute and functional!
Looks great and works great with my pup!