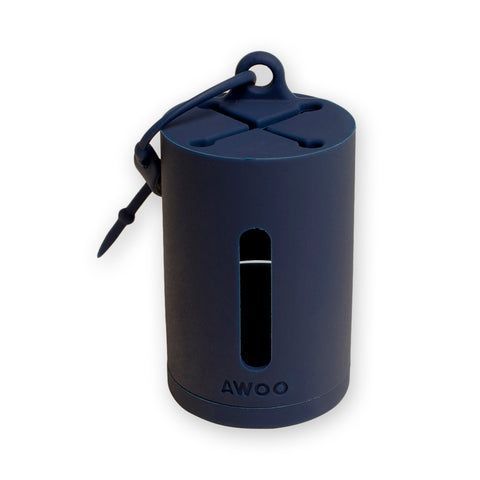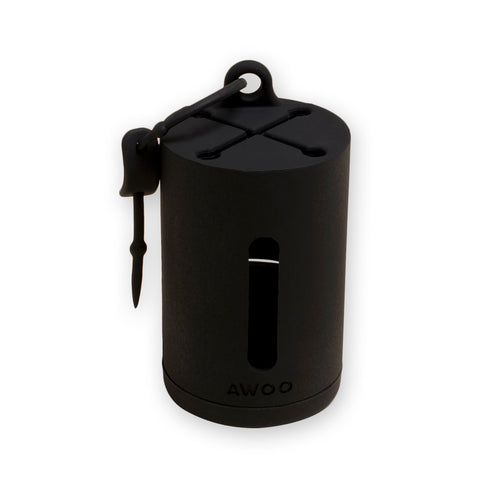 AwPoo Bag Holder
It doesn't have to stink. Made with smooth, durable silicone, the lightweight profile is the perfect home for poo bags.  Holder fits one standard-size waste bag roll and is dishwasher safe.
Slide any standard-size bag roll through the X on the top and pull individual bags out through the front slit.
Use the adjustable silicone zip tie to attach the holder to wherever it is most convenient; to our infinity leash, a handbag or your own belt.
Shop Mauve, the pack-selected color exclusively at Target.com.
Dimensions
Materials
Care & Maintenance
*All shipping rates are calculated at checkout based on weight and shipping location.
US Orders
- Standard Shipping: 3 to 10 days with tracking = $10 or less.
- Expedited Shipping: 2 to 5 days with tracking = $18 or less.
- Free Standard Shipping: 3 to 10 days on orders over $75 (before taxes and after discounts).
- Expedited 2-5 day shipping available on orders over $75 at the customer's expense.
International Orders
We offer shipping to selected international countries (link here) outside the United States.
- Estimated shipping time: 8-14 business days.
- Customer notification of local duties and taxes to be paid before delivery.
- Customer responsibility for all duties, import taxes and brokerage fees.
- All orders placed before 5pm EST will be shipped within the next 24 hours from Monday to Thursday.
- For orders placed on Friday (before 12pm), Saturday and Sunday, they will be shipped on the following Monday.
Exchanges & Returns (US Orders)
- We do not offer free exchanges. To exchange for a different item, please create a return here & place a new order for the correct item. 
All returns are subject to a $2.50 restocking fee.
- If your return is older than 30 days, please contact hello@awoopets.com with your order number and details of the return for assistance.
Wanted to love it
Material is just a bit awkward to handle and my puppy chewed it up within a day so I didn't really get the chance to use it.
Doesn't make my dog nervous
On long walks I drop the leash so my dog can practice recall but the leash makes him easy to grab just in case. Because the poo bag holder is soft and doesn't make a sound I can leave it attached to the leash on the ground and it doesn't make my dog nervous. Also super easy to clean.
Always there
I slide this onto my Infinity Leash and I always know its there, because it's attached to the leash I can easily see if it needs a refill. It's easy to clean.
Not bad
Ordered this to match my leash. Works fine. Silicone is soft and i like that it can weave through a leash so its not dangling and banging everywhere. The little string seems kinda flimsy. Personally think it's a little bulky. I noticed that if i wanted to take the poop roll out, when its not empty, its hard to get out.